Motorcycle Riding in the Cold Weather
Riding does not have to stop when the leaves start changing.  In fact, Fall is an awesome time to take those slow rides along the windy roads of West Virginia and the Tri-state region.  However, if you made plans to do so, it is important that you take care to stay warm.  Riding at high speeds during moderately cool weather can seem like riding your bike through the supermarket freezer section.  It is difficult to control a bike when your teeth are chattering, or you have cold pains in your hands.
Motorcycle Riding in Colder Weather
The enclosed motorcycle windchill chart should give you an idea of what the temperature will feel like at certain speed levels.  Being prepared for the weather will not only keep you warm but will make the ride more enjoyable.  It will also help keep you safe and less distracted.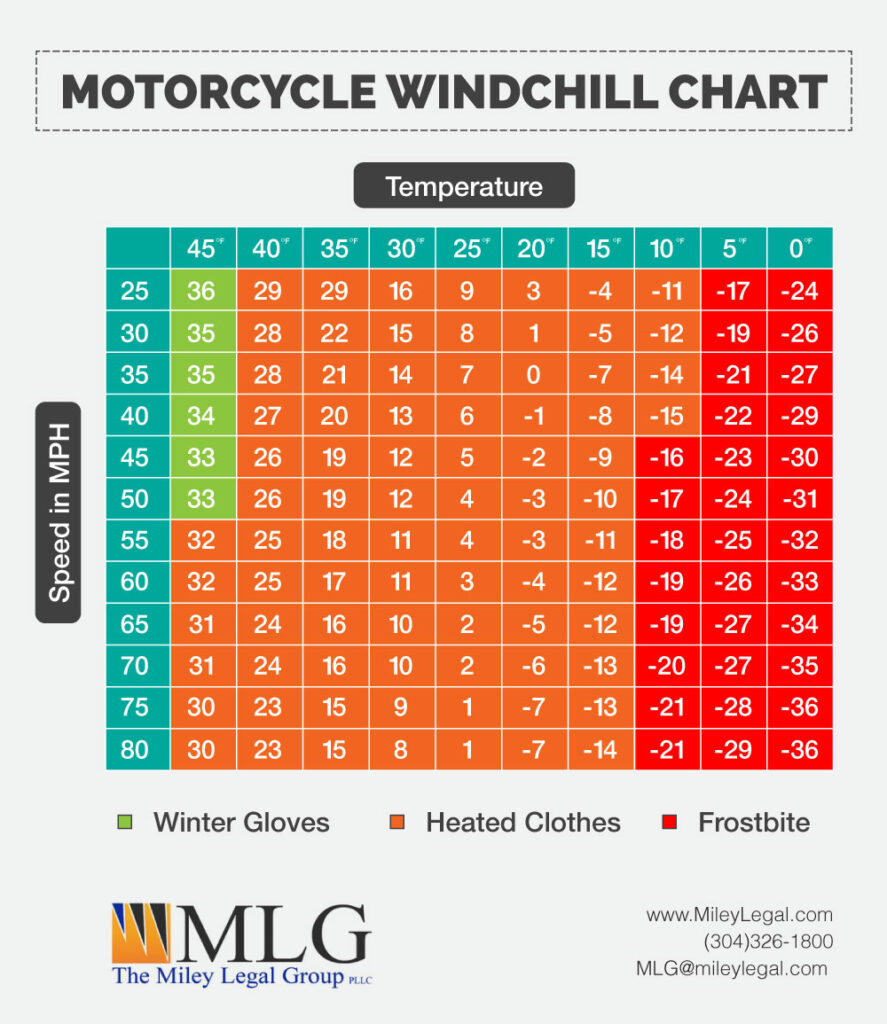 Some of the ways you can stay warm on a motorcycle include, the more obvious, gloves (which will keep your hands, and more importantly, your fingers, from freezing) and heavier clothing.  But did you know that staying dry will also help you keep warmer longer?  Being aware of the temperature and what the weather forecast is one of the most important aspects of riding during the cooler months.
How to Stay Warm on your Bike
Staying warm equals staying safe, however, it does not prevent others from being aware of their surroundings and their fellow riders.  In fact, the cooler weather may be a more dangerous time for bikers, as other drivers may assume since it is cold that you will not be out on your bike.  This makes being diligent and paying attention to other drivers even more important.
West Virginia Motorcycle Accident Lawyers
However, if you happen to be in an accident, it is important to get the help you need to keep the insurance company from running over you a second time.  If you, a friend or a loved one is in a motorcycle accident that was caused by the negligence of another driver, reach out to your firm for your free consultation and we can get any questions you may have answered before the insurance adjuster get their claws into you.