West Virginia Bikers Guide The Tools You Need to Get Back on the Road After an Accident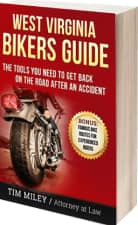 Get this guide and you may have a shot at winning!
This book answers question like:
What should you do after a motorcycle accident?
 
Should you give a recorded statement to the insurance company?
 
How are your medical bills getting paid?
 
Do you have a case?
 
What is your case worth?
 
Do you need a lawyer?
Don't let the insurance company take advantage of you!  Read this book and get answers to your questions.